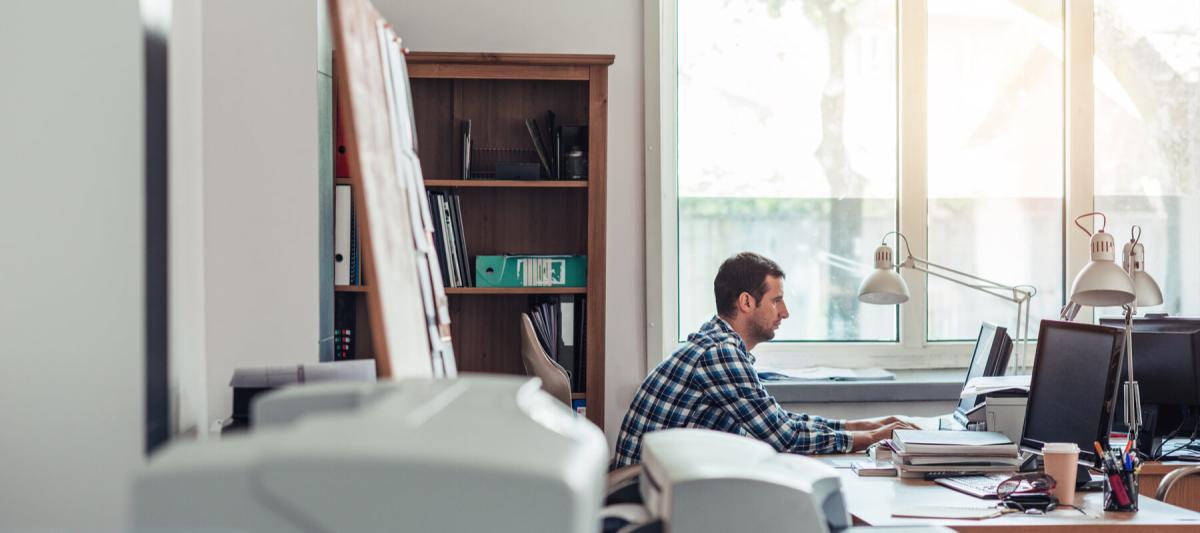 Your small business deserves the best--and that's especially true when it comes to printers. Unfortunately, with so many makes and models on the market, it's easy to get frustrated before you ever get to see the benefits these machines can offer. That's why we're here to help you choose a machine that fits just right--so sit back, relax, and brush up on all the best ways to find your perfect printer!
Why You Still Need a Printer
As a small business, you probably don't have the time, money, or patience to invest in technology for technology's sake. But do printers fall into that category? They're practically obsolete these days, right?
Not so fast.
While digital communication solutions are a key element in today's business landscape, they aren't a replacement for printers. That's because a lot of important work still happens on paper--so you shouldn't give up on this classic technology.
Instead, you need a machine that allows you to print smarter--even if that means printing less often. Your ideal printer will have all the settings and features you need to capture data, identify patterns, and learn when to use it vs. when to switch to a digital communication solution. It will also help you reduce waste, save money on print jobs, and maybe even fall back in love with printing.
Of course, none of this can happen with the wrong machine. That's why it's so important to choose the best one for your small business.
Single-Function or Multifunction Printer?
Once you know you need a printer, the next question is about the type of machine. Here are your two main options:
Single-Function Printer
A single-function printer just prints--that's it. While simplicity isn't necessarily a bad thing, it can be limiting in some situations. However, single-function devices tend to be a bit cheaper and can be more compact, which means they might your space and your budget just right.
Multifunction Printer
A multifunction printer can copy, scan, fax, and print. It often comes with additional features, too, like finishing options or apps that connect right to your email. Many small businesses prefer having a multifunction printer because this single machine replaces four individual ones, saving space and money at the same time.
Choosing Your Perfect Printer
Say you've decided between a single-function and multifunction printer. Your job is done, right?
Unfortunately, that's not the case. You still have a lot of makes and models to choose from--so to make sure you find the right fit, make sure to keep these tips in mind:
Get savvy about space.
Small businesses are just that--small. That often means you don't have a lot of space to work with.
As such, it's smart to think about how and where a printer will sit in your office. Where could it go to avoid creating traffic jams? Do you have space for more than one device, or do you need a multifunction printer to eliminate the need for other machines? These questions help you visualize the way you'll use the printer and whether it might be a good fit (literally).
Don't forget to take measurements of your workspace so you can compare them to the dimensions of each printer.
Think about your needs.
You need a printer that has the right features and functions. However, you don't want to pay for things you'll never use--and you probably aren't looking for all the bells and whistles.
To make sure you end up with a printer that fits your needs, first find out what those needs actually are. Take notes about how often you print, what you print, whether you use color, and how many different people need the printer at the same time. You should also think about what you might need in the future--that way, you end up with a printer that can help your company grow.
Calculate the total cost of ownership.
Printers cost more than their price-tag. Remember to consider other things, including:
Setup.
Maintenance.
Repairs.
Consumables.
Security.
These all add up to the total cost of ownership--and remember, a printer with a bigger price-tag upfront usually costs less in the long run.
Do your research.
At the end of the day, one of the best ways to find your perfect printer is to roll up your sleeves and do a little homework. Read reviews, ask for recommendations, and visit local dealers to see different makes and models in action. The time you spend on this step will pay off in the long run!
In conclusion, small businesses deserve printers that fit just right. However, there are plenty of things to consider--including single-function vs. multifunction printer models, current and future needs, space limitations, total costs, and more. It might sound like a lot of work, but in the end, you'll have a machine that creates real benefits for your business--and your budget, too.
Contact us today for help finding your company's perfect printer!