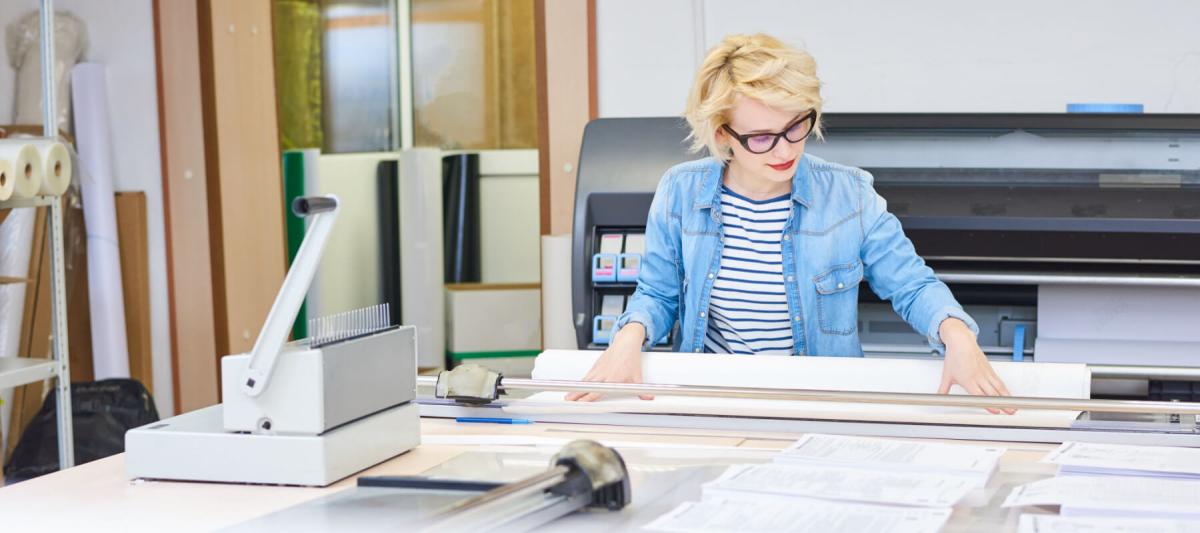 Do you have wide format printer questions? Want to know what these machines are, what they can do, and why they deserve a spot in your fleet? Let's take a closer look at the wide format printer in all its glory!
Defining a Wide Format Printer
First things first: We need to define what a wide format printer actually is.
As the name suggests, the most basic goal of a wide format printer is to create print jobs in larger dimensions than your average desktop model. The former can print in widths of up to 100 inches, while the latter maxes out at around 8.5 x 14". That means a wide format printer can do things your traditional office machine has never even dreamed of.
Another key difference is that a wide format printer can use a wider variety of materials. You're not limited to just paper; you can also print on things like:
Vinyl.
Fabric.
Ceramic.
Wood.
Metal.
Long story short, your opportunities are just about endless with a wide format printer.
Wide Format Printer FAQs
Do you have more questions about wide format printers? Here's everything you need to know:
Are wide format printers faster than traditional printers?
A wide format printer doesn't just print in large sizes. It's also built to be fast and reliable, which means it can handle rush jobs without sacrificing print quality. These machines are often much faster than desktop printers and can handle more complicated requirements.
Can wide format printers handle high-volume print jobs?
Speaking of things a wide format printer can do, you shouldn't overlook their capacity! Because they're designed to manage a huge variety of print materials and sizes, these devices are workhorses--which means they're a solid choice for high-volume print jobs you might not want to send to your traditional office printers.
What can you do with a wide format printer?
It might be easier to list what you can't do with a wide format printer. That's because these machines are designed with creativity in mind, which means they can help you accomplish just about anything.
Here are a few ways you could use a wide format printer:
Banners.
Brochures.
Vehicle wraps.
Posters.
Flags.
Window decals.
Floor displays.
Tee shirts.
Product packaging.
In many ways, the only limit is your imagination. From marketing and communication to store decorations and employee swag, a wide format printer can do all kinds of impressive things.
What are the benefits of using a wide format printer?
You can expect a lot from a wide format printer--and not just in terms of print speed, quality, volume, and type. There are also plenty of benefits waiting just around the corner, including:
Flexibility: Because wide format printers are so capable, you can turn to them for just about any need. That gives you the flexibility you need to take on new jobs or clients, adapt to a fast-changing market, and innovate with impressive speed.
Accessibility: You don't have to go to a print shop every time you have a large-sized, high-speed, or high-volume print job. Instead, just head to your own wide format printer, conveniently placed right in your workspace!
Cost-efficiency: It's not just inconvenient to drive to a print shop--it's also costly. Outsourced prints can quickly drain your budget and might not even give you control over every detail. In-house jobs with a wide format printer, however, are more cost-effective and come with the benefit of being fully within your control.
Creativity: At the end of the day, a wide format printer unlocks opportunities you never had before. You and your teams can start bringing your creative side to every task, job, and print requirement, allowing you to come up with ideas you might not have considered otherwise.
Are wide format printers a good fit for any business?
Here's the most important thing to remember about wide format printers: They can adapt to almost any environment. Regardless of your industry or business type, you can probably find at least one use for a wide format device--and plenty of benefits, too.
In conclusion, a wide format printer is a powerful, capable addition to just about any printer fleet. Fast, reliable, and incredibly impressive, these machines are ready to print anything you can come up with.
Ready to see what a wide format printer can do for you?Contact us today to find out!